As a companion to my Sacramento Bee op-ed published on Sunday, How to combat 'Trump Trauma': What we've learned since the last women's march, I produced a podcast to literally give voice to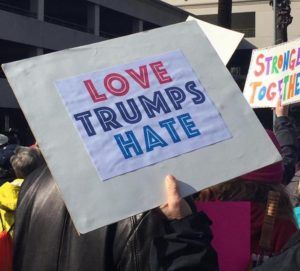 the Democrats I interviewed over the past several months.
My aim was to capture their stories of despair and resilience. To help all of us, me included, understand the stages of Trump Trauma – and what we need to do to move forward.
Some readers and listeners might say, "We've read this, we've heard this before."
But I think there's value, especially at this one-year marker of President Trump's tenure, in encapsulating the cascade of emotions Democrats have experienced.
Reading 800 words – or listening to 18 minutes – can help us step back and reflect.
And maybe then, we can stop reeling – and start dealing – with Trump Trauma.
Podcast Music: United States Air Force Concert Band. Hail to the Chief. Department of Air Force. Audio. Retrieved from the Library of Congress, <https://www.loc.gov/item/ihas.100010434/>.